When you're dealing with difficult things but they're the same difficult things you've been dealing with for years, and you sort of want to talk about them but you're also tired of hearing yourself talk about them, and you send a few messages, start and delete several others, and go to a movie alone and step out afterwards into a big Midwestern parking lot and the moment before the distraction provided by the film dissipates, you hold your phone up to the sky.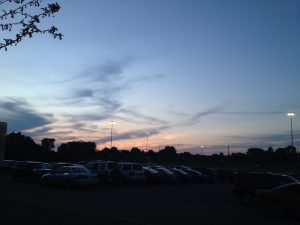 Originally published at sararyan.com. You can comment here or there.
I'm a compulsive reader. I'm less consistently engaged by movies and television, but there are certainly any number of films and shows I love.  Over the past several years, though, I've become increasingly aware that there's an entire type of narrative with which I haven't been able to connect.
I glean things from time to time — for instance I understand, vaguely, that many folks in my social circle play, love, critique, passionately discuss, create fan art for, and are otherwise engaged with games like Bioshock, Mass Effect, and Dragon Age.
But by and large, I've never found games fun.
Back in the dark ages, my fervent enjoyment of Ms. Pac-Man (as much for its name as for the gameplay) always coexisted with anxiety and frustration (whether due to inadequate hand-eye coordination or lack of quarters).
More recently, playing games, like reading some mainstream comics, has seemed more like work than entertainment, requiring Talmudic-level knowledge of creators, techniques and game mechanics. Or I've thought playing games would be like middle school gym class, where I knew I'd struggle with activities that others found simple, intuitive, enjoyable.
Turns out I hadn't found the right game.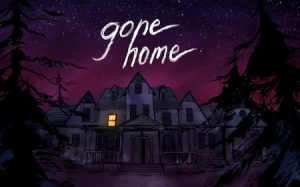 I wouldn't have found it, either, if it hadn't been for Carmen Maria Machado's thoughtful appreciation in the L.A. Review of Books, "Why Alice Munro Should Play 'Gone Home': The Video Game As Story And Experience." I bought Gone Home immediately after reading Machado's piece, and played Gone Home, with only a few pauses, for the next several hours.
Anyone with more of a connection to the world of indie games than I have is, no doubt, not surprised. The game has been out since 2013. It's won a lot of awards.
And anyone who knows me IRL will also not be surprised that the game with which I connected so strongly:
is set in the Pacific Northwest
 involves exploring a big weird house and a family's left-behind possessions & ephemera
includes multiple characters' writing in various genres (postcards, letters, passed notes, genre fiction, zines) and
(spoiler alert) involves a queer girl romance.
I mean.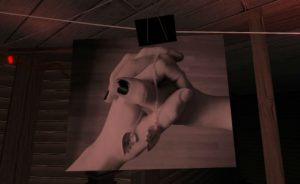 But even more than my delight in all the elements that felt tailor-made to delight me, what I appreciate most about Gone Home is how it subverts ideas about what even constitutes a story.
Received ideas about narrative are hard to escape. Conflict is everything. Raise the stakes. What does your protagonist want? What's in the way of her getting it? What's the through-line? What's her arc? Who's the Big Bad? Make it hurt!
Gone Home's storytelling doesn't work like that. You extrapolate from fragments. Relationships reveal themselves to you gradually. You discover that the Greenbriar family home, the "Psycho House," both is and is not what it seems. And if an antagonist even exists, it's, perhaps, simply the emotional and physical distance between the characters.
The Alice Munro quote about stories considered as houses that Machado includes in her piece about Gone Home is certainly apt (go read it if you haven't already). I thought of another, a favorite passage from Ursula Le Guin's essay "The Carrier Bag Theory of Fiction":
So, when I came to writing science-fiction novels, I came lugging this great heavy bag of stuff, my carrier bag full of wimps and klutzes, and tiny grains of things smaller than a mustard seed, and intricately woven nets which when laboriously unknotted are seen to contain one blue pebble, an imperturbably functioning chronometer telling the time on another world, and a mouse's skull; full of beginnings without ends, of initiations, of losses, of transformations and translations, and far more tricks than conflicts, far fewer triumphs than snares and delusions; full of space ships that get stuck, missions that fail, and people who don't understand.
There are a lot of stories inside the carrier bag of Gone Home's house. And like Le Guin's essay, they remind me that the 'narrative trajectory' is only one way to think about what stories are, or can be.
Originally published at sararyan.com. You can comment here or there.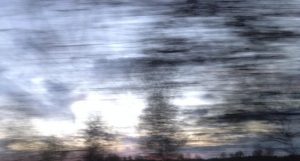 I am incapable of taking the train without also taking photos out the window while it's in motion.
Emerald City was terrific as usual. Highlights this year, aside from lovely interactions across the table, included the excellent meetup organized by Marissa Louise, various smaller-scale gatherings with old and new friends, and that curious con phenomenon where you manage to catch up with folks who live in the same city as you, yet whom you somehow never see while you're at home.
Originally published at sararyan.com. You can comment here or there.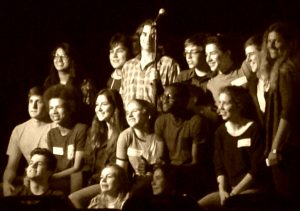 Is there anything more relevant to the interests of a YA author than an evening of hearing teenagers tell stories about risk?
PDX Cocoon: stories by Portland youth is brand new; last night was the first performance. Lead producer Nico Hamacher set the tone by warning the audience that there would be 'profanity and questionable decisionmaking' in the stories; that got a big laugh, and was an entirely accurate description.
What I appreciated most was the range of risks represented in the stories: from moving to a new country alone to sneaking out at night with friends, from near-death experiences to going in for a first kiss.
Definitely looking forward to future PDX Cocoon events.
Originally published at sararyan.com. You can comment here or there.
1. Saw a friend recently, and he asked, "What've you been up to?" I paused, shrugged, and we both started laughing. He's a writer too; we agreed that when you're not necessarily wanting to talk in great detail about what you're working on, you're also not necessarily gonna be an outstanding conversationalist, because what you're up to, basically, is writing.
2. But I'm also always reading and listening. I discovered the Nerdette podcast after seeing Tricia Bobeda on an excellent panel at ALA Midwinter and particularly enjoyed the recent episode featuring Scott McCloud.
3. In online reading, I'm very much appreciating Malinda Lo's Perceptions of Diversity in Book Reviewing series; here's Part 1: "Scarcely Plausible," and Part 2: "So Many (Too Many?) Issues."
4. I mentioned this elsewhere online but buried the lede, so let me try again: here is a picture of me at about age seven, dressed in a Wonder Woman costume that was homemade except for the mask.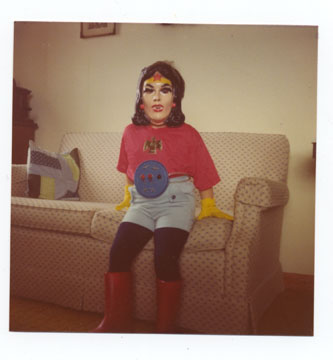 The boots are rain boots, the gloves are dishwashing gloves, the belt buckle is made from a coffee can lid. I post this not just to demonstrate my mom's cleverness at constructing this early cosplay, but as a way to announce that I wrote a story for Sensation Comics: Featuring Wonder Woman! It's not out yet, but assuredly I'll post about it again when it is. Christian Duce is doing the art. And I wish I could go back and tell my 90s Sandman-reading self that one day I'd have a story in a comic with a cover by Michael Zulli.
Originally published at sararyan.com. You can comment here or there.
I used two tools to come up with a basic overview of what-I-did-in-2014: my calendar, and the bookkeeping program I use to track my freelance work. A bit reductionist, but they do serve to more or less document what I was up to.
Four university events in 2014: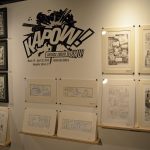 Kapow! at Eastern Michigan University, a comics art exhibit and panel discussion; also a chance to see old friends who braved the ghastly weather.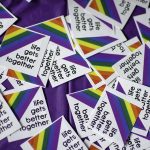 Syracuse University's student-organized Life Gets Better Together conference, where I was on the keynote panel about the cultural climate for LGBT folks and taught a writing workshop.
University of Michigan's Kids Read Comics in the Classroom preconference, another panel! And another opportunity to see old friends, better weather this time.
At Western Oregon University, all by myself this time, talking about Bad Houses with Shaun Huston's Cultural Geography class. Favorite student response: "Today Sara Ryan came in and she seems pretty kick ass … She has an awesome vibe and spoke about the process of making Bad Houses with great enthusiasm."
I was a guest at three comic conventions: Emerald City, Wondercon, and the Rose City Comicon.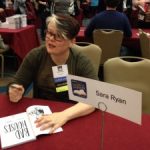 I was on yet another panel at YALSA's Young Adult Literature Symposium, this one on YA Realness: what makes 'contemporary YA' feel true to readers? Also participated in the very exciting Book Blitz, where the above photo was taken.
And I taught a couple of workshops, one on comics writing, one with Rosanne Parry on writing with cultural responsiveness, at the Society of Children's Book Writers & Illustrators Oregon conference. Also a writing workshop at the Ann Arbor District Library, and four comics writing workshops for teens at Columbus Metropolitan Library.
Whew.
…but wait, did you actually write anything? 
Yes I did: a more-than-usually-self-disclosing essay for an anthology, and a short comic featuring an extremely well-known character for another anthology. Neither has yet appeared but I will tell you when they do. And also other things, which are In Progress.
In 2015, so far I'm most looking forward to teaching at the Lambda Literary Foundation Retreat for Emerging LGBT Voices, being a special guest at the San Diego Comic-Con, and — needless to say — progressing on the things that are In Progress. Further bulletins as events warrant.
Originally published at sararyan.com. You can comment here or there.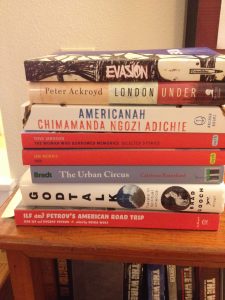 Books have always been my favorite items to give and receive. This holiday friends & family presented me with the following:
If I don't post again before 2015, the above should explain why.
Originally published at sararyan.com. You can comment here or there.
If you follow me on Twitter, you know I often post photos captioned only with the word "Sighted."
I thought about posting these that way, but I think they have greater impact when viewed as a group. They were all posted on a wooden security fence around one of the many buildings under construction in the neighborhood, close-in southeast Portland, on Division Street.
There were more stickers than I photographed, but we were on our way to (Re)Writing The Future: Social Justice and Science Fiction, and thought, correctly, that there'd be a packed house.
I'd love to properly credit the origin/creators of the stickers; if anyone who sees this knows the story, let me know.



(Stickers are all the same design; they look like the traditional "HELLO my name is" style, but instead say "HELLO I wish I could…" People have filled them out expressing the following wishes: escape debt, have collective resources, feel safe, eat three meals a day, retain long term residents, change city policies, get affordable groceries without getting on a bus, protect my children from being shot, respected by whites, afford to live in my own neighborhood, not be profiled when I walk in a store, trust my neighbors.)
Originally published at sararyan.com. You can comment here or there.
I just got back from YALSA's YA Literature Symposium. Although this photo is from a few weeks ago and today I'm wearing a different hoodie, me and the cat are in a similar position as I type this.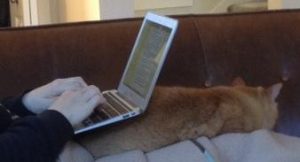 Here are a few things I saw while wandering Austin: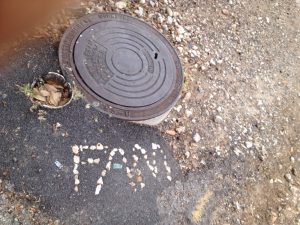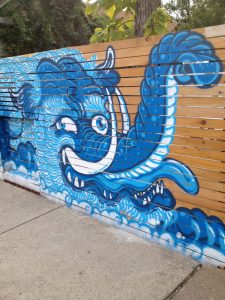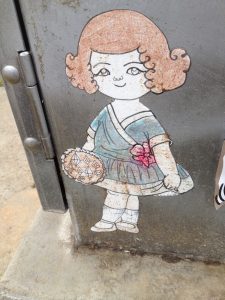 I really enjoyed being part of the "YA Realness: what makes 'contemporary realism' feel true to readers?" panel with Matt de la Peña, Coe Booth, Jo Knowles, and Sara Zarr.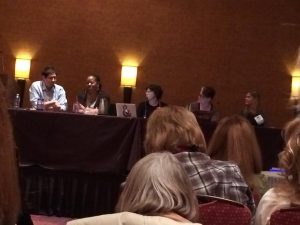 (photo by Kim Johnson Dare, found via Facebook.)
We didn't have a moderator, just asked questions of each other, and I liked operating that way; it felt more like we were having the kind of conversation that usually happens outside of official conference sessions, in the hallway or a restaurant or the hotel lobby late at night.
I had many of those latter kinds of conversations too, and I was often reminded of a post I wrote a few years back, "Shapeshifting," about how the role someone has when you first meet them — how they're described, or describe themselves, when you're introduced — is almost certainly not either a. the only role they occupy or b. the one they'll be in when you meet them again.
Here are before/after pictures of my table at the Book Blitz, an event during which authors are set up at tables with big stacks of their books. Attendees get a small number of tickets that they then 'spend' to acquire copies of said books (generously donated by our publishers).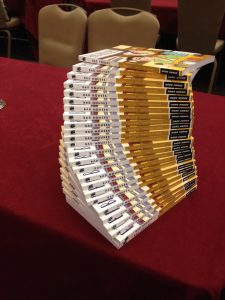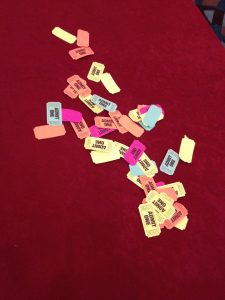 It was pretty chaotic but in a lovely way. Kudos to the folks responsible for merchandising the books. That curving stack of copies of Bad Houses was merely one among many examples of niftily displayed titles.
Since you're reading this post I bet you will also find the handouts from GenreQueer: Exploding the Closet and Who gets to tell our stories? Authentic portrayals of Trans* Youth in YA Fiction relevant to your interests.
And a few books I'm reading either directly or indirectly because of the symposium: The Devil's Highway by Luis Alberto Urrea, Swati Avasthi's Chasing Shadows, S. Bear Bergman's The Nearest Exit May Be Behind You, & Kekla Magoon's How It Went Down.
Originally published at sararyan.com. You can comment here or there.