Hello!
In case you were wondering, this is not going to morph into a blog composed exclusively of me interviewing other authors. But I sure like doing said interviews, and I am now pleased to present another one!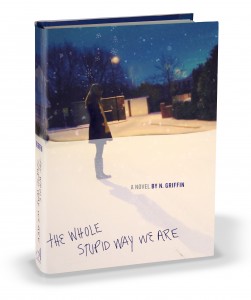 I was intrigued by N. Griffin's debut novel, The Whole Stupid Way We Are, from the moment I heard its excellent title. It's about Dinah, church choir director's daughter who sings off-key, and Skint, who walks coatless through brutal cold; about their friendship and the things that divide them. For a book whose characters have some very hard-to-deal-with experiences, it's surprisingly funny, and the prose is always precise, whether evoking an escape from detention, the play of sunlight on a toddler's feet, or how it feels when your help can't fix what you want to fix.
So I asked N. Griffin some questions. I've tried to avoid spoilers, but if you are extremely concerned about such things you might want to wait to look at this interview until you've finished reading the book. Which, in case it wasn't obvious from the above, I recommend that you do.
SR: I love the names in TWSWWA. How do you choose character names?
NG: Thank you! Naming the characters is one of the most fun parts about writing books, I think. For TWSWWA, Dinah's name came first.  When I was just starting to write the book, I was working with a woman whose name I adored.  Let's call her Mynah Deech.  I loved saying "Mynah Deech" so much I worked it into conversation at every opportunity—"What do you think Mynah Deech would think of this?" and "We better check with Mynah Deech!"  In fact, I wanted to steal her whole name for my book but I thought that would be too weird so I settled for a name that rhymed with it and came up with Dinah Beach.   All of the other names just felt right to me, and some of the names are sort of a broken-up, messed-up version of a word that was central to my heart while I was writing the book.  A MYSTERY!  :)
SR: I was struck by Skint's angry passion about social issues far removed from the considerable challenges of his day-to-day life. At what point in the writing process did that aspect of his character become clear to you?
NG: It was always clear to me; one of the first things I knew about Skint was this.  I think this aspect of his character came from two places for me—first, I know so many kids who care this much about suffering and the world, and we never seem to pay attention to that aspect of teenagers.  We prefer to think they are only and entirely self-centered, and I know that is beyond not true.  I also knew that Skint's passion for this was an outlet for all the anger in his life—he can't express what is going on at home, but he can get riled up about the world in a public way, and all his personal hurt and upset gets added to his natural compassion and comes out with all the intensity that would suggest.
SR: Dinah genuinely cares about Skint, but also seems to see him as a project or a job. She comes up with strategies to distract & cheer him: "Outings, she thought firmly, and good ideas to think about. Pretending, talismans, things to do with trees." I think many of us have known and/or been Dinahs. What do you think drives that particular intense need to help people who may or may not benefit from our efforts?
NG: For Dinah, I think it's the same intense love and compassion as Skint has, only hers is focused on the personal and her own aching for Skint.  I also think she truly thinks she's helping him, and that can be an intoxicating feeling—who doesn't want to feel like they are needed like that?  But the balance is off for sure, and I think that's something lots of people take years to make sense of.  Not that I know anything about that.  No sirree.  ;)
SR: I hope I can say this without giving too much away: I was impressed that you leave certain things unresolved at the end. Did you always know you wanted to give that shape to the story, or did you have previous drafts that went in other directions?
NG: Nope, that was always how it was.  I think I wrote the last scene when I was only a third of the way through the first of my million drafts.  For me, the arc of the story is that of their friendship, not of their whole entire lives.  And when that arc was complete, so was the book.
SR: And finally: Dinah and Skint regularly embark on "Fantastic or Excruciating?" adventures:
"An FoE is an entertainment where you can't tell beforehand whether it will be fabulous and surreal or only just a misery-making fiasco that will make you ache for the performers involved because it is all so awful and the performers are unaware. Or maybe they are aware. And then it is even worse."
Have you ever done this yourself, and if so, can you describe one?
NG: Oh, my lordie, yes, all the time and even still!  Every single FoE in the book except for Walter is one that I have actually experienced. There are so many more, too!  I would adore to hear about other people's FoE's.  I live for this kind of thing.
SR: Thanks for answering, NG! 
Originally published at sararyan.com. You can comment here or there.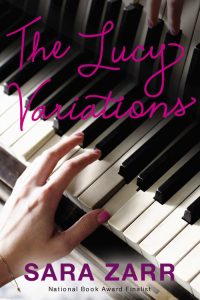 The Lucy Variations is about Lucy Beck-Moreau. As the book opens, Lucy is a sixteen-year-old former world-class pianist, and current…well, that's the question. When your identity has been entirely constructed around one thing for as long as you can remember, and you walk away from that thing, how do you figure out what else there is, who else you can be? I loved this book, and I was excited to ask Sara Z. some questions about it. Minor spoilers below.
SR: Early on Lucy's mom says that Temnikova's death is 'terrible timing' — a cringe-worthy comment, but somewhat more understandable when you know that she was preparing Gus for an important performance. What was it like to write Lucy's mom and Grandpa Beck, characters so focused on achievement that they often don't seem to see other ways to experience life as even possible, let alone desirable? Was it easy, like letting a competitive part of yourself off the leash, or more of a stretch?
SZ: I was surprised how much I enjoyed writing Mom and Grandpa Beck – maybe you've tapped into something here about why I liked it. Maybe they represent my superego! As far as "easy" vs. "a stretch", I think writing characters like that is always easy in the first draft, when they're being the cardboard-cutout versions of themselves so that you can move conflict forward. In revision, for them to really work, they need to be humanized in some way. They need dimension, and opportunities to show cracks in the armor. That's a writing challenge–you don't want to pull your punches and make every antagonist into "a crank with a heart of gold," because some people are just truly difficult or calcified. But, it's very rewarding work. I love to see a previously-2D baddie or antagonist have a moment where they show another side or potential side, without quite joining the ranks of the "good guys." One of my favorite and unexpected things about the final version of the book is the understanding Lucy comes to about her grandfather.
SR: I played violin growing up, and while I was never remotely close to the Lucy level, I definitely remember the stress of preparing for recitals, solo-ensemble festivals, & concerts. Do you play any instruments? How did you research the musical details in the book?
I grew up around music and especially classical music. My parents met in music school at Indiana University and were both quite good. My father, especially, had made it his career for a time earlier in their marriage. He conducted and sang, and held several professorships at music schools post-college. My mother plays guitar, piano, and cello, and is also a singer, songwriter, and arranger. By the time my sister were old enough to know what was going on, neither of my parents were making their livings in music but it was always a big part of our lives. I played the clarinet, and I was nowhere near Lucy's level, either. My sister played violin and got to the point of playing in some competitions, and she could have probably gone further if that was her passion. As far as research, I did ask my mom some stuff, and I also attended a big piano competition that's held here in Salt Lake (a fictional version of it appears in the book). I went to watch a master class, where a young musician performs a piece and then a seasoned and often well-known (in that world) musician critiques it and leads the musician through workshopping the piece. In front of an audience! I can't imagine. The pressure seems incredible. A lot of Lucy's personal interaction with the music just comes straight from my own love of those pieces.
SR: When did you decide to include the musical notations as section headings? I love them.
Thank you! This is one of those funny stories. I was talking to a colleague, E. Lockhart, on the phone about the book while I was still drafting it. And I don't remember exactly, but I was kind of feeling uncertain and unfocused about how to present or organize it. And she said something like, "Well, it's called The Lucy Variations so I assume you have it structured like a musical piece…" "Um, no. But that's a good idea!" It was one of those things that seems so obvious now but hadn't crossed my mind. Once I started thinking about it that way, it helped with the structure of the story. I'm always in favor of things that help with structure, because writing a novel is a fairly overwhelming task, as you well know!
SR: Early on, Lucy thinks: "She had to be careful with guilt. Once she went off that edge, the downward slide might never stop." Perhaps it's TMI to say it, but this passage really resonates with me. Why do you think guilt can be so seductive?
SZ: I wish I understood it better myself, as it's one of my own personal trapdoors. I guess like a lot of things, guilt provides a kind of narrative for the events of your life story. It's something to identify with, and in a way if you're preoccupied with guilt maybe you feel like you have some control over the situation. "This thing happened and it's my fault" (directly or indirectly, falsely or rightly) implies a kind of power, and maybe if it's "about you" that way, it means there's some hope for effecting a solution. Of course usually the things we feel guilty about aren't in fact about us, and the solution isn't up to us (at least not totally), and helplessness or powerlessness can be harder to face. Maybe! I don't know.
SR: I love that Lucy decides to impress Mr. Charles by writing a paper about an author she knows he loves. I once tried very hard to love Crash by J.G. Ballard because of a particular instructor's fondness for the book. What's something you've done to impress a mentor?
SZ: In the first intensive writing workshop I ever took, I got a big crush on the teacher. He cited Ford Madox Ford's THE GOOD SOLDIER as one of his favorite novels. So of course when I got home I read it, hated it and didn't understand it, and emailed him to say how much I'd enjoyed it. I hope he doesn't read this. (Hi Robert!)
SR: On a related note, another thing I think is great in Lucy Variations is that you show not just how appealing and thrilling it can be to have a mentor, but also the attractions and dangers inherent in being one. What makes mentoring relationships compelling to you to explore?
SZ: Oh, there are so many reasons! For one thing, it's incredibly flattering when someone wants to do what you do and sees you as someone who has "arrived" in some way, especially in a professions in which there are so few tangible (or tangibly believable) evidences that you have something to offer, that your work matters in a lasting sense. Giving advice and encouragement is so much easier and enjoyable than needing advice and encouragement. Feeling established enough to warrant mentees is much better for the ego than feeling like a nobody. Being admired feels great. Those are the ego-based reasons, I guess. In a purer way, it's so exciting to see talent in someone–especially someone young, or younger than you–and be in a position to help nurture it and encourage it. When you can successfully do that, you really feel like you're doing something good for another person, directly, and it's a moving thing. Then when it's time to let go, and see your birdie fly the nest, that stirs up a whole lot of your own issues. As far as Will's relationship with Lucy, I think there's that pure side to his intentions, but he's also human and nearing middle age. At one point in the writing process and in the midst of my own midlife crisis feelings, I went to see a friend's daughter in her school play. And the youth and exuberance and beauty of the high schoolers on stage just killed me that night for some reason, completely leveled me. That fed directly into the scene where Will tries to explain to Lucy how painful it is sometimes to be so close to that kind of youth and beauty and talent, with his own sense of the newness of life and the act of creation behind him. Mentoring someone young lets you experience that again, and for a minute you can forget that it's their life, not yours.
SR: Thanks so much, SZ! 
Originally published at sararyan.com. You can comment here or there.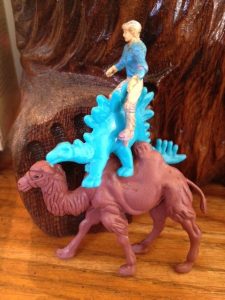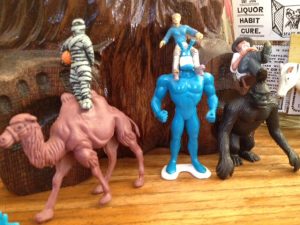 At my coffeeshop of choice, I'm always compelled to rearrange the figurines.
Last five books I've read:
Why Don't You…? Diana Vreeland: the Bazaar Years
You should listen to this Stumptown panel about freelancing with Katie Lane, Erika Moen, Natalie Nourigat and Matt Bors.
You should also read this post by Wendy Stephens, Splitting personalities: how some teens are choosing privacy on the YALSA blog.
Last but not least, citizens of the Tumblrverse, are you following the Bad Houses tumblr? I would enjoy your company there.
Originally published at sararyan.com. You can comment here or there.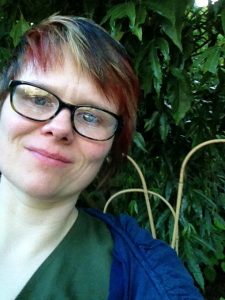 Hello yes! If you were wondering if the note on my Events page that says I'll be at the Stumptown Comics Fest this weekend was just a vicious lie, let me reassure you.
I am totally going to be there, at least from 12-2 on Saturday at the Periscope Studio table, and perhaps also at other times.
I will not have copies of Bad Houses because they do not yet exist. But you should still come by if you are curious about the book.
Also you should follow this cryptic elliptical Tumblr.
Originally published at sararyan.com. You can comment here or there.
Do you see the eye?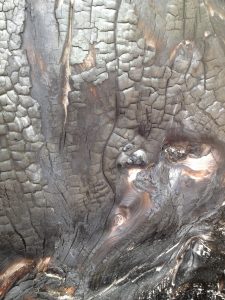 A bird head in this one.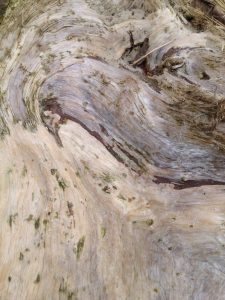 Reaching hands.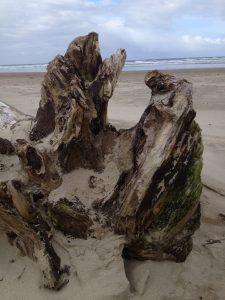 Smiling dog-head.
Other people, I am given to understand, go to the beach and look at the ocean.
I do that too. But I cannot resist the pareidolia possibilities that driftwood offers.
Originally published at sararyan.com. You can comment here or there.
Often during yoga, the teacher will talk about "sighing something away" or "letting something go" when we're in the midst of a challenging pose.
And I have no trouble thinking of something I'd like to not be worrying about. But I can only rarely visualize letting it go, or sighing it anywhere except right back into my head, just where it was.
Today she said that one of the founders of the kind of yoga we're doing says that part of the point of doing it is to "sit with the discomfort."
That, while still challenging, actually seemed much more doable.
I wasn't trying to banish anything forever. I was just putting my body into a particular shape and staying in it until she told us to transition.
And I began to think about what it means to "sit with the discomfort" when we write.
It's often literally sitting, sitting with the computer, or the notebook, or into space, when nothing will cohere, coalesce, or achieve coherence.
The discomfort can be decision fatigue, when you've figured out the mechanics of several scenes and you know these characters have to do SOMETHING ELSE AFTER ALL THAT but you have no idea what it might be.
Or you know what it has to be eventually, but they're only at Point B and they need to get to Point X.
ARGH.
WHEN DO WE GET TO MOVE.
Of course, no teacher is going to appear to tell you it's time to transition.
But sometimes if you sit with the discomfort long enough, something opens up, and you know where to go next.
Originally published at sararyan.com. You can comment here or there.
Yesterday Laini Taylor and I went to Cassandra Clare & Sarah Rees Brennan's Portland tour stop. It was in the midst of a mall. The large, enthusiastic crowd blended seamlessly with the people bringing small children to have photos taken with the Easter Bunny.
Said bunny was sufficiently interested to temporarily abandon his post, as you see.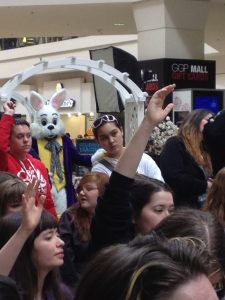 Various folks were watching from above, as well.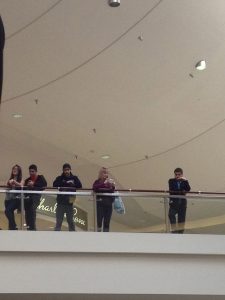 I wondered how many of them were simply idly curious, and how many were fans who'd strategically staked out that vantage point.
Events at this scale are really endurance exercises for the authors (case in point: Cassie needed to ice her signing hand afterwards), so we were glad they had enough energy afterwards to hang out for a while.
Of course one of the things we talked about was writing. I brought up some issues I'm having with a thing I'm working on, and as you might well suspect, they had some fantastic insights.
Example insight, worldbuilding variety:
When status quo in your narrative is that a particular practice has been suppressed for some time, you should have a clear sense of what society was like before the suppression began. What motivated said suppression? How and by whom was it done? What have the consequences of the suppression been, both intended and unintended? As I type this I'm thinking wow, you should really have figured all that out a long time ago.
But sometimes you need other writers to ask you the right questions. Thanks, ladies.
Originally published at sararyan.com. You can comment here or there.
This is one of those "what is in the refrigerator/pantry and how can I combine it with minimal effort & maximum deliciousness" pseudo-recipes.
1 frozen chicken breast
some lemon pepper
some sun-dried tomatoes, like a little more than a quarter cup
some olive oil
Put the chicken in a baking dish. Drizzle the olive oil over it and sprinkle the sun-dried tomatoes around it. Bake it at 350 degrees until it's done, which will take probably about half an hour, maybe a little more or less depending on size. You want it to not be pink inside, basically.
When the chicken is done, dice it up along with the sun-dried tomatoes and combine it with:
some more olive oil
half a bag of broccoli slaw
half a bag of baby spinach
an apple, diced
some sliced or slivered almonds
some kosher salt
some lemon juice, like just enough so it complements the olive oil
I would include a photo but it is gone already.
Originally published at sararyan.com. You can comment here or there.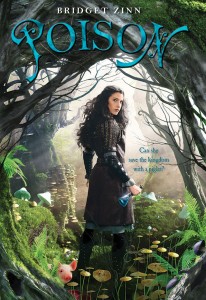 If you're anywhere near Portland, please join me and many other friends of Bridget Zinn for a launch event for POISON at A Children's Place Bookstore, 6 PM Saturday March 16th.
Originally published at sararyan.com. You can comment here or there.
Sidewalk chalk enhances a bit of Central Library's exterior: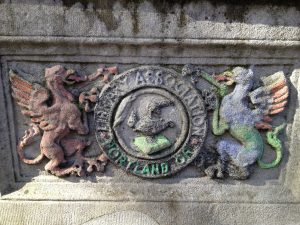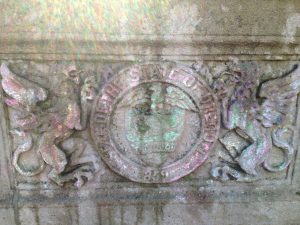 The art below is on display at The Observatory; unfortunately I didn't spot the artist's name, but if anyone knows, please to comment. The detail that appears to be a hair ornament is actually the reflection of one of the hanging lamps; I liked the way it echoes the shape around the spoon-in-the-process-of-being-bent.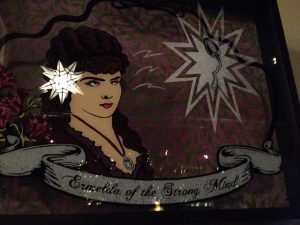 And in case you thought I'd stopped spotting street art, here's a mixed media example: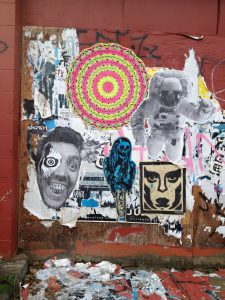 Originally published at sararyan.com. You can comment here or there.